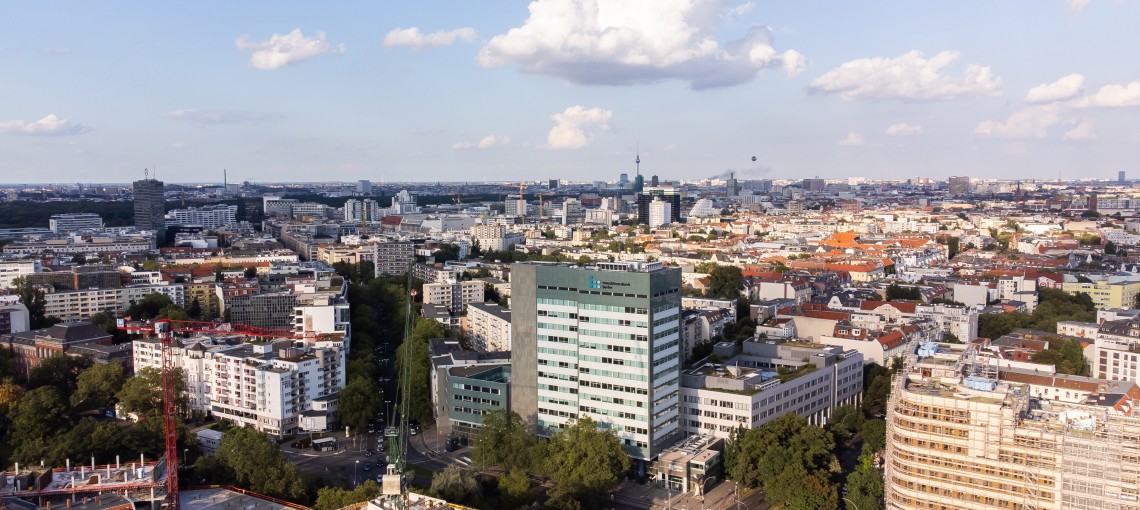 In 2021, Investitionsbank Berlin underwent a corporate restructure. During the course of this process, we spun off the bank holdings from IBB in order to ensure greater clarity, traceability and improve efficiency. In future, we will be able to concentrate even better on our business development and support tasks.

Chairman of the Board of Management

<![CDATA[]]>
About the IBB Group and its equity investments
IBB Unternehmensverwaltung Anstalt öffentlichen Rechts (IBB UV) was established by law by the Federal State of Berlin. As the parent company of the group, IBB UV is the owner of IBB and for its part is wholly owned by the Federal State of Berlin. All of IBB's equity investments were transferred to IBB UV. IBB's former subsidiaries have now become subsidiaries of IBB UV and together they form the IBB Group.
IBB UV is broken down as follows:
Investitionsbank Berlin AöR
Banking-related promotional business
Equity investments on behalf of the Federal State of Berlin
Other strategic investments held in conjunction with promotional tasks
<![CDATA[]]>
Financial reports of IBB UV
These documents are available in German only.
Corporate governance
We apply the Corporate Governance Code (CGC) in its applicable version as issued by the Senate Department of Finance. The rules of the Berlin Corporate Governance Code (BCGK) are also part of this.

These documents are available in German only.

<![CDATA[]]>
Investitionsbank Berlin
Wholly owned subsidiary of IBB UV
IBB is the business development bank of the Federal State of Berlin. IBB promotes and finances investment projects on behalf of the Federal State of Berlin in order to improve economic, ecological and social living conditions in Berlin and thereby advance sustainable development. In addition to business development as well as housing and urban development, the bank's portfolio will be expanded in 2022 to include labour market promotion.

<![CDATA[]]>
Strategic shareholdings
In 2019, the European Commission and the European Investment Bank (EIB), together with the kENUP Foundation as fund initiator and Investitionsbank Berlin Group (IBB Group), established the EU Malaria Fund Berlin (EUMF). The fund aims to bridge the gap between research and the market by financing companies or projects involved in research and development projects for malaria diagnosis, prevention and treatment. This is carried out by providing mezzanine financing (venture loans) to European companies active in research and product development for malaria control. Starting in 2019, the IBB Group established the fund companies and developed a governance structure for the fund.

The EU Malaria Fund is managed by a company of the IBB Group. The fund manager of the EUMF, EMM EU Malaria Fund Berlin Managementgesellschaft mbH, is an investment of ipal Gesellschaft für Patentverwertung Berlin mbH. The fund has a term of 10 years and is expected to invest in 11 companies with a total of 27 projects in the field of malaria control and also COVID-19.

Since 2021, the IBB Group has held a EUR 1 million stake in the European Social Innovation and Impact Fund (ESIIF). The IBB Group is involved in the fund together with other public and private investors. The fund is guaranteed under the European Investment Fund. For several years now, Berlin, in particular, has become Germany's hotspot for social enterprises and other impact investments. With its participation, the IBB Group aims to facilitate access to financing and funding for social enterprises and to help promote sustainable investments. The fund is managed by Berlin-based avesco Financial Services AG.

With a target volume of EUR 20 million, the fund finances early-stage social enterprises (as defined by the EU) based in Germany, Austria and other EU countries (at least 50% in Germany).

<![CDATA[]]>
Sustainability of the IBB Group
Sustainability is a top priority for the IBB Group and is firmly anchored in our corporate strategy. Our goal is to make Berlin more sustainable! All of our support activities, for instance, for founders, SMEs, the housing sector, environmental protection, energy saving and renewable energy, are geared to Berlin's sustainable development.
Sustainability guidelines of the IBB Group
With its products, the IBB Group is helping the Federal State of Berlin to achieve its climate policy goals for carbon reduction and to cope with demographic change. In addition, the IBB Group meets high legal standards in its dealings with customers, suppliers and staff by using its resources efficiently.
For the first time, IBB UV has developed sustainability guidelines for the entire IBB Group. On 5 January 2022, these guidelines were adopted by the board of IBB UV and IBB and apply to the entire IBB Group.
IBB's Sustainability Report